Implant Retained Dentures & All on 4
IMPLANT-RETAINED DENTURES
An implant-retained denture is the next step up from traditional dentures. Implant-retained dentures utilize two to four dental implants that offer support and stabilization. You can still remove your denture for easy cleaning. However, the use of implants provides security and additional chewing force, as it only receives part of its support from the gum tissue and more on actual bone support.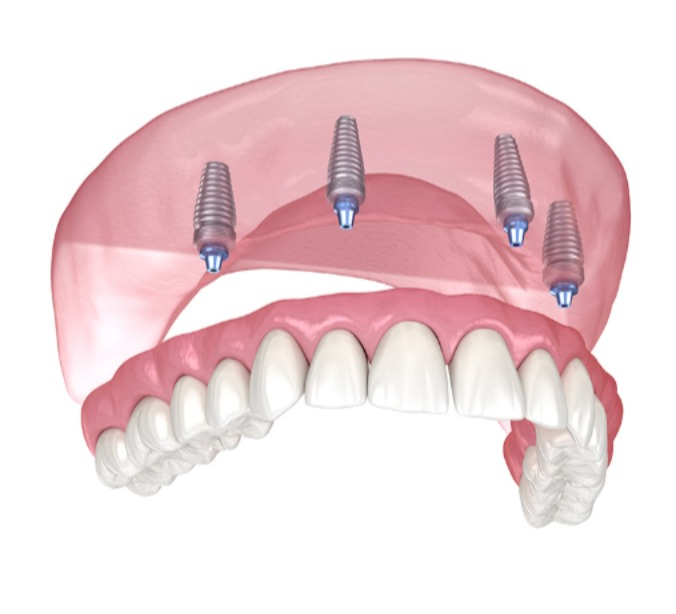 ALL-ON-4 ™ -IMPLANT-SUPPORTED DENTURES
If you miss chewing a nice juicy steak, implant-supported dentures may be your solution. This restoration uses four dental implants to completely support the non-removable denture. This means that all your bite force is placed directly on the implants and the jaw, making it the most natural denture option available. The use of multiple implants also helps to support the bone structure in the jaw, meaning you will not experience facial changes or bone loss commonly experienced with the loss of natural teeth.
The restoration is designed to closely mimic the look and feel of natural teeth. The treatment will leave you with secure dentures, enabling you to enjoy food and feel comfortable again knowing that your dentures are stable.
Additional benefits include:
A more functional solution over traditional dentures
Closely replicates natural teeth
Virtually no loss of chewing function
Do not need to be removed after meals or at night
An effective long-term solution that can last for decades if cared for properly